Gorillas join forces with DOCKR to deliver groceries fast and sustainably.
Today's Western-European cities can no longer imagine a world without the couriers from Berlin-based startup Gorillas cycling around the city. Dutch mobility brand DOCKR will support Gorillas on their journey to ensure they can continue to deliver groceries sustainably to people's front doors within 10 minutes. In addition to the Netherlands, the collaboration will also roll out in Belgium and Germany.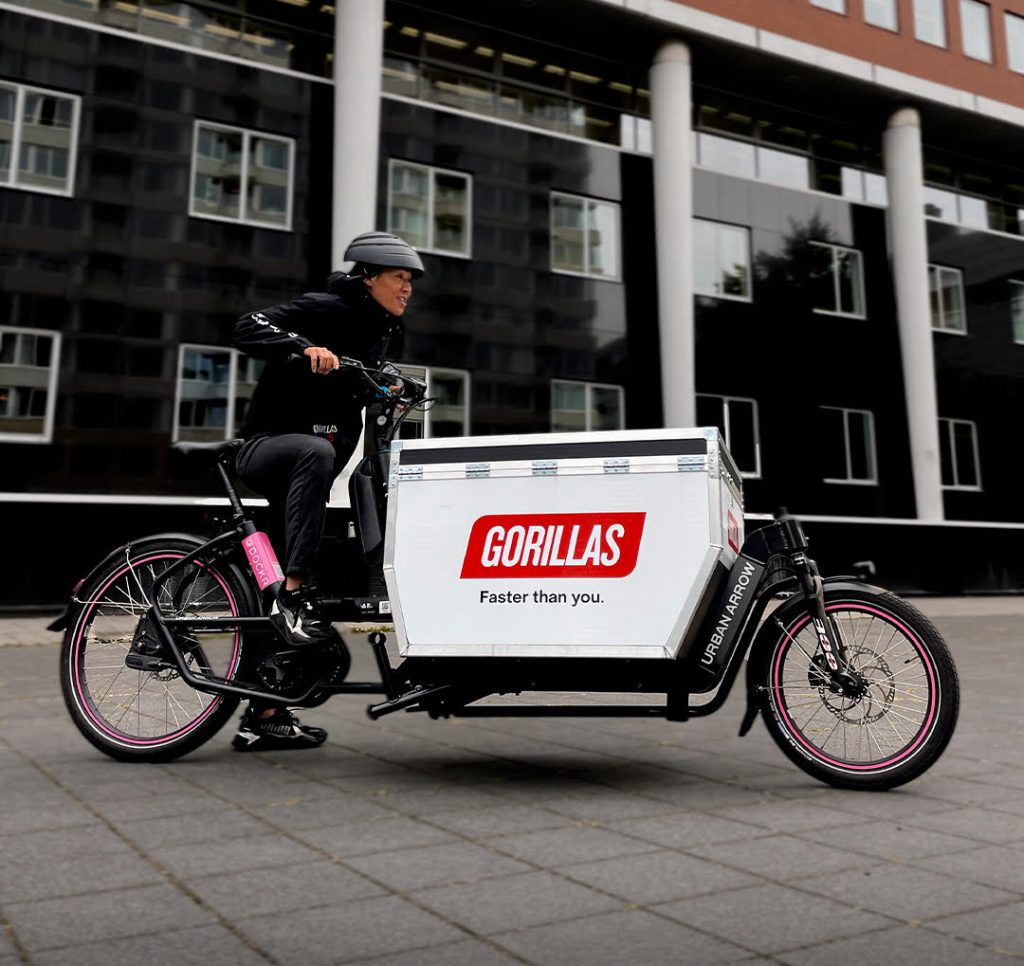 Sustainable logistics
The rise of Gorillas has been impressive throughout Europe thus far. The increasing popularity of the German start-up inevitably leads to an expanding amount of orders, and those orders are increasingly becoming bigger. Gorillas started looking for an innovative and future-proof addition to its current fleet to continue the growing demand. DOCKR, which offers flexible contracts for fully-branded electric cargo bicycles for a fixed amount per month will support the Gorillas brand on its expansion. The electric cargo bikes of DOCKR allow the couriers of Gorillas to take more orders at once and provide an all-in service so that Gorillas can consistently deliver carefreely.
Better for the inner city
Gorillas is taking a new direction when it comes to sustainable delivery. DOCKR enables Gorillas to combine larger and more orders in their electric cargo bicycles. Additionally, more and more cities are reviewing their regulations for zero-emission delivery. Both brands joined forces, becoming role models when it comes to sustainable delivery.
About DOCKR
DOCKR ensures that companies and entrepreneurs can deliver throughout the city centres more efficiently, faster and more sustainably. According to the all-in principle, they do this with flexible contracts for electric vehicles with sufficient loading space: insurance, periodic maintenance, and replacement transport are standard.
About Gorillas
Gorillas, founded by CEO Kağan Sümer, build an infrastructure for the fastest last-mile delivery of essential human needs. The on-demand delivery start-up needs just ten minutes to get a user's desired goods from the cart to the user's desired location. Users of the app benefit from access to more than 2500 essential items at retail prices for a delivery fee of just over $2. By disrupting the shopping and supply chain experience of traditionally slow and inflexible retail companies, Gorillas is shaping new grocery consumer behaviour (Need-Order-Get). With its latest funding round led by repeat investor Coatue Management, Gorillas has raised $290M in Series B and has become Europe's fastest unicorn ever, only months after closing its $44M Series A. Other investors include DST Global, Tencent, Fifth Wall and Greenoaks (Atlantic Food Labs also participated). In contrast to established gig economy models, Gorillas directly employs more than a thousand riders, spreading actual change in its community. In a little over twelve months, Gorillas has expanded to more than 50 cities, including Amsterdam, London, Paris, Madrid, New York, Milan and Munich, and built up more than 100 warehouses centres. Currently, the app is available in Germany, France, Italy, the US, Spain, the Netherlands, Belgium, the UK and Denmark.